I just wanted to do a quick post about doing laundry in the dorms. I know you are probably thinking that this is really simple and, why would you do a post on that Kim?
But! There are probably a couple things you haven't thought about with this simple task.
1. Pick a set time each week. You want to have a regular time or "laundry day." This will help keep your schedule balanced and running out of clean clothes. Also, try to find a time that is somewhat unique to you. Try to avoid times where everyone is doing laundry.
2. Use as study time or relax time. If you are sitting in the laundry room you can spend the time reading or doing homework in the time you have waiting for the washer and dryer. It is a good time to be alone with your thoughts or have quiet time believe it or not.
3. Collect spare quarters. These can be used as your laundry fund, because most colleges have paid laundry rooms. I know it sucks, laundry isn't free anymore.
4. Separate your clothes. There are so many ways to separate your laundry and it all depends on each person's individual preference, but here are the basics in four loads: whites/lights, darks, delicates and towels/jeans/bedding.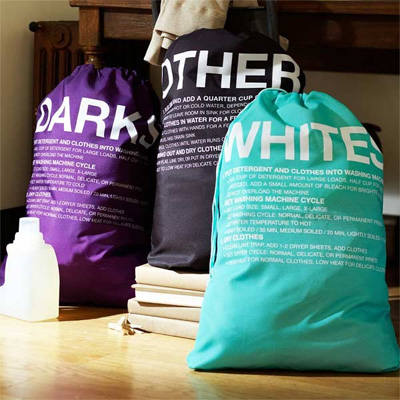 5. Choose the right settings. Check the tags on your clothes and find out whether they need cold water, hot, low temp drying, etc. Here's a few tips for water temp: hot for whites, linens and towels, cold for anything you don't want to shrink or fade (including any whites that fall into this category), warm for everything else.
6. Fold Immediately!!! When taking your clothes out of the dryer don't just toss them into your hamper and deal with them later. Fold your clothes as you are taking them out and put them away as soon as you get back to your room. This helps avoid wrinkling and looking like you just rolled out of bed 24/7.
7. However, if you do have wrinkles, invest in a small iron and ironing board.
8. Don't forget your supplies! You will need: detergent, dryer sheets and optional are fabric softener, bleach or color bleach like Clorox 2, and Woolite.
Hope these few simple tips helped!
9. Laundry baskets. Sturdy plastic laundry baskets are fine but, if you are tight on space, try to go with a collapsible basket.
10. Keep everything together. Keep all your supplies together so when you go to do laundry you are not digging around searching for what you did with everything.
P.s. When you go to do laundry, check the soap dispensers because sometimes people will leave soap in them which is a score, or bleach, then you know which washing machine to use for your white clothes!