Hey guys, can you believe it is already October? This year is absolutely flying by, and I don't know about you guys but I am super excited for Halloween. Here are the things I have been loving over this past month:
Makeup favorites:
- Covergirl 3 in 1 foundation. Right now this is the only foundation that has been working for me color wise and it hasn't been drying on my skin (which is freaking out right now.) Its good medium to full coverage that lasts well on me. Plus it is on my list of 10 things I am trying to use up by the end of the year. Post coming soon.
- Wet-N-Wild Walking on Eggshells trio. Wonderful every day eyeshadows from the drugstore. Also on my list to use up this has been my everyday go-to for just a simple eye look that I don't have to think about.
- Too Faced Sweetheart blush in Peach Beach. This blush has been my absolute go-to over September. It is beautiful, not too overpowering on my skin tone, and it has a nice sheen and highlight factor so I have been skipping highlight with this. It just gives the most beautiful glow! This is a must have for fair skin!
- Maybelline Color Sensational lipstick in Peachy Scene. I'm not really big on pinky colors when it comes to lipstick but this is a really wonderful every day lipstick. It is a nice peachy pink that isn't too crazy. Have been using this thing to death this month.
Book Favorite: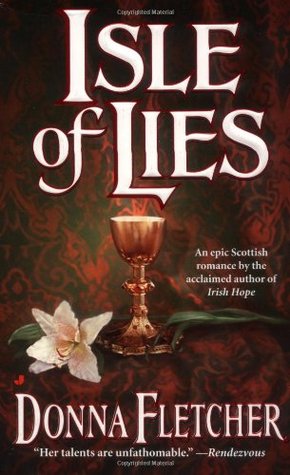 - Isle of Lies by Donna Fletcher. I absolutely love this book, and being me, it is a romance novel. I recently rediscovered this book when I was moving and decided to reread it this month and fell in love with it all over again. This book is a historical romance set in Scotland, which is a large part of my heritage and makes me love it all the more. Here is the
Goodreads page
so you can check it out. Also, the sequel is wonderful too.
*Due to the amount of crud that went down this summer I wasn't able to get through much of my
summer reading list
and will be extending these goals through the end of the year*
Music Favorites:
- Good for You - Selena Gomez
- Basshunter
- The Phoenix - Fall Out Boy
What are some things you guys have been loving this month? Let me know in the comments.
<3 Kimmie